"Required
Reading"
November 6, 2019
In this issue:
The (L)earn A Laptop program:
FREE computers provided by BlueLink IT Solutions. 
End-of-year Fundraising!
Become a part of this literacy work today.
Imagination Library:
Community task force raises $1,738!
(L)earn a Laptop:
FREE portable computers to all our students!
Dharam Khalsa of BlueLink IT Solutions teaching a student how to use her new laptop (RAALP Coordinator Melissa Salazar providing translations when needed!)
BlueLink IT Solutions (AKA those computer wizards down the street) has been working with RAALP to refurbish gently-used laptops, handed down from their client Akal Security, and give these laptops directly to our students.
Apart from building new capacity for computer literacy, this program also opens new possibilities for strengthening our existing English literacy program: we can now install language learning software on our students' laptops, so they can supplement in-person tutoring with at-home interactive lessons. When students complete 25 hours of at-home lessons, the laptop becomes theirs to keep.
This program is still in the pilot phase, and we are still piecing together our the funding for the software (Voxy, the app we have chosen, meets our high quality standards but it is not cheap!), but we expect to begin rolling out the first phase of the program early next year.
Our End-of Year Fundraiser is HERE
Help keep RAALP alive (and growing)!
As we round the end of 2019, we find ourselves in a season of taking stock, and giving to the community from our abundance. At RAALP, it is the season of our annual End-of-Year Fundraiser. If you donate, we have donors who have pledged to match every dollar we earn up to $6,000.
As the only organization providing free one-to-one tutoring for adult literacy in Rio Arriba and Los Alamos counties, students rely on the Rio Arriba Adult Literacy Program to reach their life and career goals. Over the past seven years, this community has helped build a program that now provides tutoring for 10 Basic Literacy and 25 English as a Second Language students. Through our program, students get new jobs, attain citizenship, pass their high school equivalency, start reading to their children, and many other personal goals.Building literacy in our community requires the entire community. Our students, tutors, board, three employees, and donors: no matter who you are, you are essential to our program.​
Your contribution is an opportunity to bring this essential program to the next level. Give the gift of literacy today!
The Imagination Library Builds Strength
The community donates $1,738!
RAALP provided the financial kickstart and the administrative support (through our excellent Office Manager, Jonathan Roybal) to get Dolly Parton's Imagination Library off the ground in Rio Arriba. Over the late spring and summer, a task force of six organizations got together and built the program according to our community needs, and requirements from the Dollywood Foundation. All so we could begin offering one book per month to children in our community, from their first year until they were five years old, for no cost to the family.Although this program is free for families, it is not free. We keep costs down but the program costs about $25 per child, per year. With 89 students already in the program, and with the administration needed to process all the applications, the task force has had to raise a broader baseline of funds to ensure its future. That's where our community stepped in, bolstered by the Del Norte Credit Union who matched every dollar spent. 
All told, the Task Force raised $1,738!
Congratulations, y'all!
Here's to a community that understands the importance of multi-generational solutions for literacy!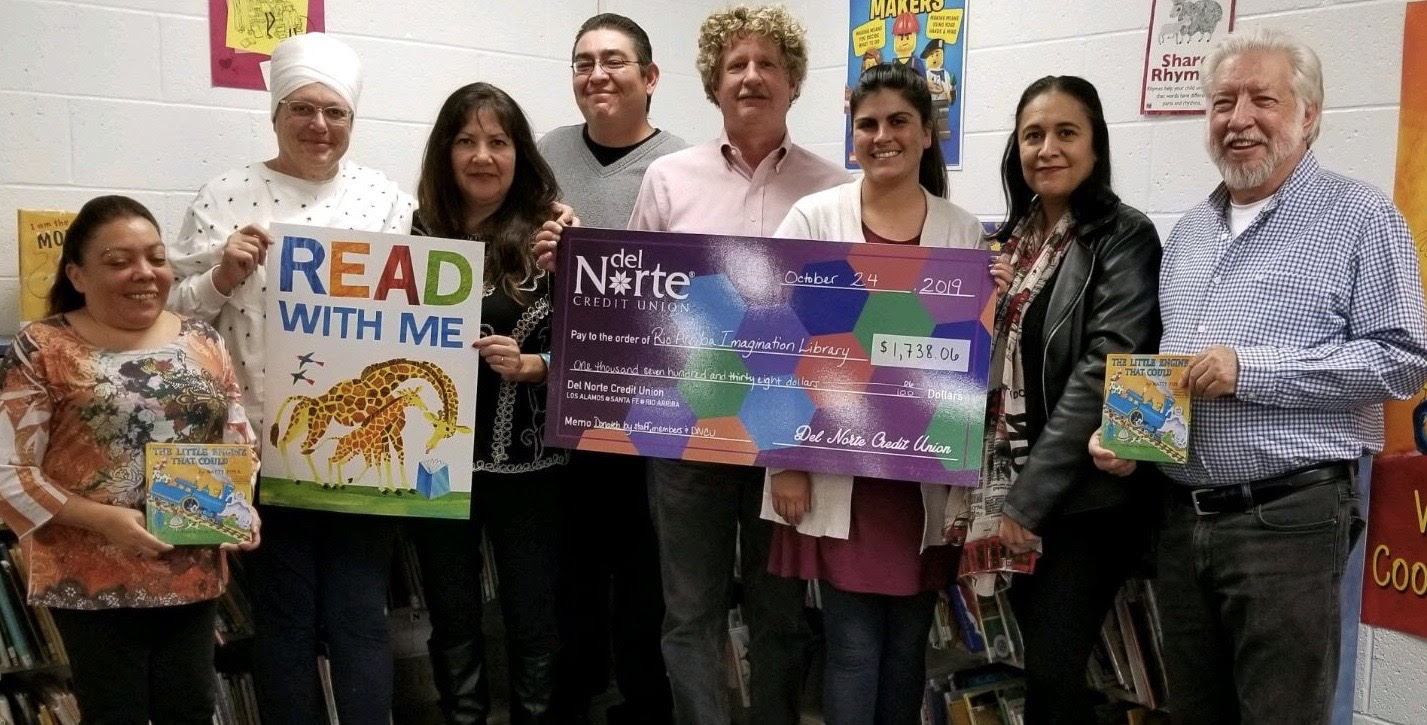 Thanks to all our supporters!
AccuCopy
Akal Security, Inc.
Angel Paws, LLC
Anonymous
Dr. Ric A Bradford, DO
Century Bank
City of Española
Counter Intelligence, LLC
Española Public Library at the Lucero Center
Friends of the Española Valley Public Library
Friends of Los Alamos County Libraries
Gino's Gym Atlas Fitness Center Inc.
H and S Craftsmen, LLC
Inn at the Delta
James Talcott Fund at the New York Community Trust
Jemez Mountains Electric Cooperative
KDCE Radio
KRSN AM 1490
LANL Foundation
Landscape & Nursery Services LLC
Liberty Ranch Infinite Possibilities Fund
Los Alamos National Securities
op. cit. books
New Mexico Bank and Trust
New Mexico Coalition for Literacy
Rancho de Chimayo
Rio Arriba Title and Escrow
Rio Grande Sun
Santa Clara Development Corporation
Sopaipilla Factory
Susan & Conrad De Jong Fund
United Way
Valley View United Methodist Church
Zia Credit Union
…and friends like you!